Early Dutch railway posters mostly featured detailed timetables in small print, sometimes supplemented with cliche images of trains. The versatile artist Willy Sluiter changed all of this in 1913 and 1914 with his posters for train travel to the Riviera, Cologne and the Dutch seaside.
Sluiter did not depict trains or landscapes, but people: passengers, railway staff and locals. He did this in a distinctive cartoonesque way, using humor and flair. The relatively short texts were integrated in the image. More than a century later, Sluiter's bright colors still look strikingly fresh.
Willy Sluiter (1873-1949) was known as a 'gentleman artist'. He created portraits, beach scenes, political cartoons, book covers and posters. Raised in the village of Zwijndrecht and trained at the art academies of Rotterdam and The Hague, he lived in fishermen's villages and artists' colonies such as Scheveningen, Katwijk, Volendam and Laren. His subjects ranged from the simple life of fishermen to fashionable city life. In higher circles he was a popular portrait painter. Sluiter was inspired by the French post-impressionists and the posters of Henri de Toulouse-Lautrec.
Sluiter managed to pair these artistic influences with a great sense of humor, resulting in striking cartoons and fashionable posters. He designed the latter for the Hamdorff artist's hotel at Laren, Oriental carpets outlet 't Woonhuis and the Netherland Line (Stoomvaart Maatschappij Nederland), among others. In 1913 and 1914 Sluiter created three posters for HYSM (Hollandsche IJzeren Spoorweg-Maatschappij, i.e. Dutch Iron Railway Company). The novelty of these railway advertisements at that time was aptly described by Dutch journalist and author Jan Feith in his much-read newspaper column of 12 May 1914:
Our Dutch railway and tramway companies have only recently started advertising. But being quite conservative — the way we are — they did so in a very modest, even inconspicuous way… Gradually they freed themselves from typographical solemnity. Sometimes they put a stiff-looking train with colored cars on their advertising placards; or a smoke-spitting locomotive, flinging its travel intentions onto a cobalt blue sky. Eventually, renowned artists were commissioned to illustrate the ads. This year the HYSM has gone one step further; the company decided to abandon the conventional way of drawing the public's attention to its special trains. Jan Feith, 1914
Marseille and the Riviera
Sluiter's first railway poster dates from the autumn of 1913: To Marseille and the Riviera via Paris and back without transfer. HYSM started a direct sleeping car service from Amsterdam and The Hague to Marseille and the French Côte d'Azur — a popular place for the upper class to spend their winters, while Marseille was the starting point for steamers to the Dutch East Indies. At Paris the carriages were linked to the Méditerrannée Express of PLM and Wagons-Lits. The total journey took less than 24 hours. The HYSM service was an alternative to the Riviera Express, ran by its competitor Staatsspoorwegen (State Railways) and Wagons-Lits. Because of the First World War the train service had to be discontinued after only one winter season.
On the elegant poster a couple is enjoying their holiday on the Mediterranean, relaxedly leaning on the announcement text pane. The man is wearing a stylish English sports suit and holds the gloved hand of his equally sporty female companion. Sluiter only needed a few simple lines, combined with some bright colors, which makes this poster ahead of its time. The design must have stood out among the other posters at the stations, full of 'stiff uppercase letters that seem to have been taken directly from the official timetables' (Feith). The self-drawn letters on Sluiter's poster had a matching style and color.
When it was still winter, our platforms and advertising columns featured a colorful drawing created by Willy Sluiter, showing us a dandy-like gentleman, alongside the alluring names of 'Marseille' and 'Riviera', gently courting a fashionable lady — with the Côte d'Azur already on the horizon! Jan Feith, 1914
North Sea beaches
In 1914 the poster Travel to the sea beach by HYSM via Amersfoort-Amsterdam or Dordrecht-Rotterdam appeared. Even more than on the Rivièra poster, the hand-drawn letters are an integral part of the design. The colors are bright and cheerful. Three young fisherwomen on the beach are dressed in traditional local costume, while small boats are sailing the surf in the background. A magazine described them as 'Zandvoort girls', but the seaside resort of Scheveningen was also accessible by HYSM and its subsidiary ZHESM. Sluiter knew both resorts very well; beach life and fishermen were common motifs in his art.
Advertising trade journal De Bedrijfsreklame appreciated the poster: 'Good drawing, vivacious coloring, maintaining simplicity in flat colors; a striking, pleasant-looking poster has emerged here, which undoubtedly serves its purpose.' The artistic value of Sluiter's posters was already obvious, as evident from the fact that HYSM sent them to the Rijksmuseum (National Museum) upon publication, which directly included them in its collection. And because of his HYSM posters, the German magazine Das Plakat called Sluiter 'one of the very first artists in Holland to design artistic posters'.


Another advertising bill is aimed at our German neighbors, inviting them to visit the Dutch seaside, to which three joyful, frolicsome smiling fisher-girls contribute their bit. The print is strong in color, strong in drawing, and above all strong in Dutch intent! Jan Feith, 1914
To Cologne
Sluiter's third railway poster, announcing new express trains to the German city of Cologne, was focused on travelers, not the destination. A couple in love is waiting on the platform while a luggage porter is watching them tenderly from the background. Jan Feith wrote it was remarkable that Sluiter did not depict a typical Cologne motif, such as the famous Cathedral, but three cheerful people. Two weeks later his readers were able to judge for themselves, as the poster was folded into the newspaper as an advertisement, that is to say 'in the copies in the cities and those delivered by agents'.
In 1913 HYSM had introduced a 'fast connection' to Cologne. The next year, with the delivery of new locomotives, the journey time could be shortened to 4 hours from Amsterdam. Previously, Cologne had only been accessible by D-trains with a surcharge, or through-carriages in international night trains. The new, affordable express train with 1st, 2nd and 3rd class seats departed from Scheveningen and Rotterdam as well as Zandvoort and Amsterdam. The two trains were combined at Kesteren in the Betuwe region, to continue together via Nijmegen and Kleve.


Oh, this Cologne smile! The young woman laughs her cheeks red because of the happiness awaiting; the young man grins his most favorable love grimace. But both their smiles are nothing compared to the porter's delight. He smiles as only the worldy-wise can; only the true connoisseurs of life, of happiness, of hope, of the future, can tout their lips in laughter this way! He keeps his slit eyes closed in fatherly fashion; his cheeks are round as apples, his chin points down uncomplainingly; but his mouth — a thin line only! — reflects a whole mirror full of jest, cordiality, blessing… When people see this precious advertising print, everyone will think of Cologne, of trains, of honeymoons. Jan Feith, 1914
Hoek van Holland-Harwich
Although only three genuine railway posters are known to be made by Willy Sluiter, he also created a poster design for the ferry service between Hook of Holland and Harwich. This important link between England and the continent was owned and operated by a railway company: the British Great Eastern Railway (GER).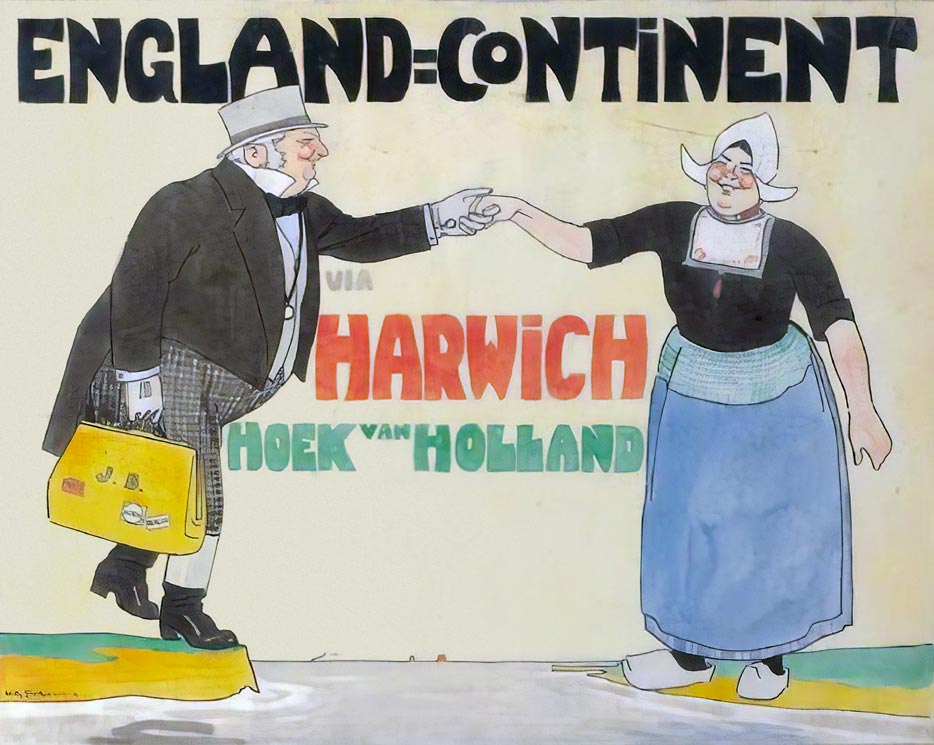 HYSM had a railway station at Hook of Holland, and worked closely with GER, for example in operating a joint London-Berlin train service. This makes it is likely that HYSM also commissioned Sluiter to create this poster design. The image, in this case horizontal, shows an English gentleman and a Dutch woman in traditional costume reaching out to each other across the sea. As far as is known the poster was never executed in print, perhaps because of the outbreak of World War I.